Book #11 Reader Reviews
Lady Justice and the Cruise Ship Murders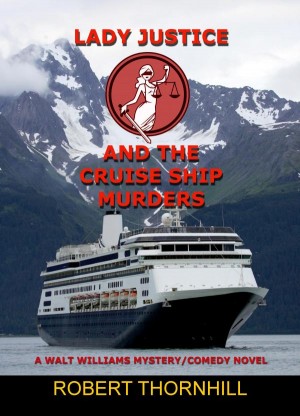 I think this was the best Walt Williams book yet! Lots of twists and turns and an amazing read. I couldn't wait to see what was going to happen next. Walt and Maggie go on an Alaskan cruise with Ox and Judy who are finally taking their honeymoon. They meet another couple who are going to Alaska to try and find the gold that was left from an ancestor who had buried it before he got caught. Looks like trouble follows Walt wherever he goes. They were on quite the adventure this time. I also loved all the pictures in the book from Alaska. They made the story even better. Thanks Mr. Thornhill for another great book! Hope there will be another adventure for Walt and his gang soon.
_______________________________________________________________________________________
Lady Justice and the Cruise Ship Murders fast moving, fun, mystery.
October 7, 2013
Robert Thornhill's "Lady Justice" series is the most entertaining and thought provoking series I have ever read. Can't wait for more of his unique and insightful work. I wish everyone in the US would read his work to discover just what is going on in this country as well as have a delightful read. In thinking of Robert Thornhill and his work this quote from Job 11:17 seems appropriate: "And thine age shall be clearer than the noonday, thou shalt shine forth, thou shalt be as the morning."
I am really looking forward to reading more from this extraordinary author.
_______________________________________________________________________________________
I just can't figure out if Walt has good luck or bad. Is he in the right place at the wrong time or visa versa? Why should Ox & Judy have a less exciting honeymoon than Walt and Maggie had? This story was good and had the added benefit of pictures. I enjoyed the pictures and thought that they added that something special.
The side story with John, Mary, Willie & Jerry was funny.
_______________________________________________________________________________________
There's something about a murder mystery aboard a ship at sea...the culprit can't escape easily; but neither can the intended victim.  Writers like Agatha Christie and Ian Fleming have used this vehicle to set up plots and sub-plots to make the reader roll with the waves as they sort through events and clues.  Robert Thornhill skillfully brings this setting into the world of Walt Williams as he presents us with mystery/comedy #11, LADY JUSTICE AND THE CRUISE SHIP MURDERS.
The story unfolds as Walt Williams, retired real estate salesman, now a member of the Kansas City Police Force's City Retired Action Patrol (C.R.A.P.), and his wife, Maggie, have been invited to join Walt's partner Ox, and Ox's policewoman wife, Judy, on their honeymoon.  The decision is to take a week long Alaskan cruise that includes panning for gold (Ox's dream) and a salmon bake for Judy.
With Thornhill's skill of interweaving story lines, we learn that another couple from KC are also headed to Alaska to hopefully retrieve a hidden treasure trove of gold.  The plot thickens when a murder is committed on the first night aboard the ship right down the hall from Walt's room.  Continuous action will hold the reader's attention, but Thornhill also provides moments of prose about the beauty of Alaska and humor events that occur on the ship. Finally, the culprits are caught and Lady Justice triumphs once again.  This is a pure fun and entertainment...keeps you turning the pages until it's done!
______________________________________________________________________________________________
Lady Justice and the Cruise Ship Murders (Robert Thornhill)
Robert Thornhill hits the mark again in Lady Justice And The Cruise Ship Murders. Walt and Maggie accompany Ox & Judy on their honeymoon cruise  it to Alaska. Once on board two people end up dead, and it looks like a case of mistaken identity. Another couples life is in danger if Walt and gang can't catch the murderer first.
Fantastic read, with a bit of Alaskan history and great photos. A must read for mystery lovers.I highly recommend all in the Lady Justice Series by Robert Thornhill.
________________________________________________________________________________________________
This is the first time I've read a book by this author, Robert Thornhill, and I must say I will probably be reading more of his writing. This was a fun cozy mystery about four  friends. Ox and Judy are off to Alaska on a honeymoon cruise and invite Walt and Maggie to tag along. Their vacation is anything but relaxing and all fun and games. First thing that happens they meet another couple on vacation, Amy and Mark Steward. From that point on their vacation plans are soon shipwrecked by the murder of two fellow passengers.
The murders appear to be linked to a century-old legend involving a cache of gold stolen from a prospector and buried by two thieves. There were hair-raising attempts of someone trying to put an end to their lives.   Their seven day cruise is spent hunting for the gold and eluding the modern day thieves intent on possessing it at any cost.
Another nail-biting mystery that will have you on the edge of your seat one minute and then I found myself laughing out loud the next. I really enjoyed this book, and awarded it 4****
______________________________________________________________________________________________
This was the first book I won! Well written has action, romance, suspense, history, a cruise...and is about people in my age bracket. Finally an author that understands that we are not dead in mind or body... Will be looking for more books by this talented author.
_____________________________________________________________________________________________
This book was just simple, entertaining and enjoyable to read. No dragging out the 1 sentence to 1 page. Just let's get down to the story telling. Very enjoyable book. Plus you get a real idea what cruising to Alaska is like. Though going there is so much better.

Now I have to go out and buy his other books.
_______________________________________________________________________________________________
Out of the blue, Mark Stewart received a letter in the mail from Skagway, Alaska. A. Prospector claimed to know about gold that had been stolen from his great great grandfather in 1898.

At the same time the Stewarts were preparing for their voyage, Ox and Judy De Marce, invited my wife, Maggie, and I on an Alaskan Cruise for their honeymoon. We'd only been married a year ourselves and had never been on a cruise. Sounded great.

Amy Stewart had kept the letter from A. Prospector and did some research. His facts were true and accurate. After talking with him over the computer, Amy and Mark decided some family history and cruising would go good together, so they were on their way.

As the Stewarts prepared for the cruise, others were making plans of their own. They had hacked into Quimby's, A Prospector's, email account to keep track of what he was up to.

One slip up while packing, will cause them grief. I loved that he put in their fiasco through airport security.

All six of them met for the first time at the airport and found out they were taking the same cruise. But if they thought it was going to be a vacation, they had another thing coming.

5 STARS - Would Highly Recommend To Others

A humorous mystery novel that made me think of Janet Evanovich`s books. I had been immediately attracted to the book by the title and cover. The blurb made me know it was going to be an adventure with plenty of murder and mystery told in a light-hearted way. I love the "noir" type of book.

The guys are typical guys and the same goes for the women. Whatever the gals wanted the guys went along with. They dressed up for cruise dinners and socialized with the other passengers. I've been on cruises, so I know the program.

I love adventure novels and treasure hunting. This book contained all the elements. There were multiple story lines and it was action packed.

I loved the reference to Clint Eastwood in Rawhide - herding cows. "Move `em out, head `em up, head `em up, move `em on, move `em out, head `em up - Rawhide. I remember watching the TV show and singing along.

My husband and I joke all the time about following the herd.

The author made other references to the old westerns. It seemed to describe the places in the book in a great way. Skagway was Dodge City and Tombstone rolled into one.

Quimby, the professor who found the map and started the whole thing, reminded me of Indiana Jones. I love references to TV shows and movies. It helps to picture everything in my mind.

When I met Willie, Jerry and Anne, they had me cracking up and kept me laughing. I loved them.

...Just like Timex watches - they take a licking and keep on ticking. Full of clichés, but not too overdone. It is his writing style and added a humorous element, keeping me laughing throughout the book.

He also made me think, that with every page I turned, something would happen. Kept waiting, anticipating. Oh, and it kept me laughing. LOL

Human nature..skew the scales of justice. Those times, the call will go out from Lady Justice for someone to step up and right those scales.

"The bartenders have concocted a special drink just for the cruise. It's made of Viagra and prune juice. They call it the `Get up and Go!'"

I won this signed paperback on Robert Thornhill's Website.
*******************************************************************************************
This was the first book I won!  Well written has action, romance, suspense, history, a cruise...and is about people in my age bracket.  Finally an author that understands that we are not dead in mind or body...  Will be looking for more books by this talented author.
*******************************************************************************************
Book Review
Reviewed by Lee Ashford for Readers' Favorite

"Lady Justice and the Cruise Ship Murders" by Robert Thornhill is Episode #11 of the 'Lady Justice series', an ongoing collection of comedy/mystery stories spawned in the creative mind of the author. In this story Walt, a Kansas City Police Department creator and member of Citizens Retired Action Patrol (C.R.A.P.), and his wife Maggie join Walt's patrol partner Ox and his new bride Judy both of whom are also police officers, on an Alaskan Cruise intended to be Ox and Judy's official honeymoon. The four friends greatly anticipated this opportunity to get away together for some peace and quiet, and enjoy an experience none had ever had before . . . a cruise. They did have an experience none of them had ever had before, but the cruise was merely a small part of it. Peace and quiet never entered the equation at all.

The title of this story gives a great big clue about what to expect in this adventure. Somebody aboard ship murdered two people and tossed their bodies overboard. Much to their surprise, the people they murdered had just changed rooms with the people they intended to murder, so the perpetrators still had two people to kill. This story is laugh-out-loud funny in many places, while still being a somewhat serious murder mystery. In addition, much actual history of the Alaskan gold rush was woven into this tale, lending a great deal of historic accuracy to the entire story. Robert Thornhill has found and filled a niche in the world of fiction that quite obviously had not been discovered prior to the day his wife told him he should write a book. His talent for creating real people, serious crimes, and humorous situations in a cogent story is a national treasure. I heartily recommend this tale to everybody with a sense of humor who also enjoys a well-told tale.
***************************************************************************************
Book Review: "Lady Justice and the Cruise Ship Murders"
What if Soapy Smith hid the poke of gold his men stole from Klondike miner, John Douglas Stewart? What if it was never recovered after Soapy was killed and no one but one poet gang member knew where it was hidden? What if a modern day researcher figured out where the gold was hidden and wanted to see that Stewart's descendants were the ones to uncover it? Stewart's approximately 159 ounces of gold would be worth about $221,437.71 today, which is enough for many unscrupulous humans to consider robbing and even murder to obtain that gold.

Lady Justice and the Cruise Ship Murders by Robert Thornhill is Episode #11 of the Lady Justice series, an ongoing collection of comedy/mystery stories spawned in the creative mind of the author.

There you have the fast-paced, nail-biting, action-packed mystery that will interest Soapy Smith fans and "have you on the edge of your seat one minute and laughing out loud the next." An easy read, with interweaving story lines that do not confuse the reader or interrupt the story. Mystery, comedy, Alaskan history and explanatory photographs.
A couple, Ox and Judy, are on a honeymoon cruise with tag-along friends, Walt and Maggie, when two other passengers are murdered. The murders are linked to a the secret meeting between John Stewart's descendants and an author who believes he knows where the gold is hidden. The Stewarts' were the intended murder victims but a change of their room aboard the ship saved their lives. Once the crooks realized they murdered the wrong couple the race was on to murder the right couple before they reached Skagway, Alaska and the gold. The Stewarts' with the help of their new found friends, who thankfully are peace officers, spend the rest of the cruise eluding the modern day thieves intent on possessing the gold at any cost.

I own a signed copy that now resides proudly along with Soapy Smith collection of books.


Great-Grandson of the infamous Soapy Smith, con-man extraordinaire in the Alaskan Yukon.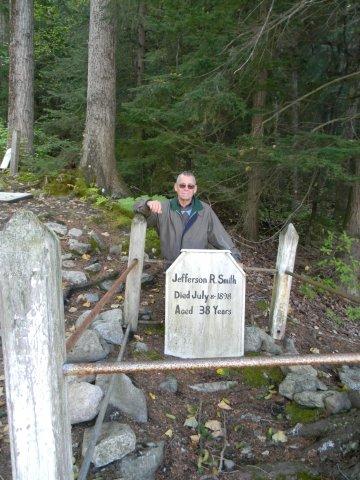 The Author at Soapy Smith's gravesite