Book #16 Reader Reviews
Lady Justice and the Organ Traders 
Reader Reviews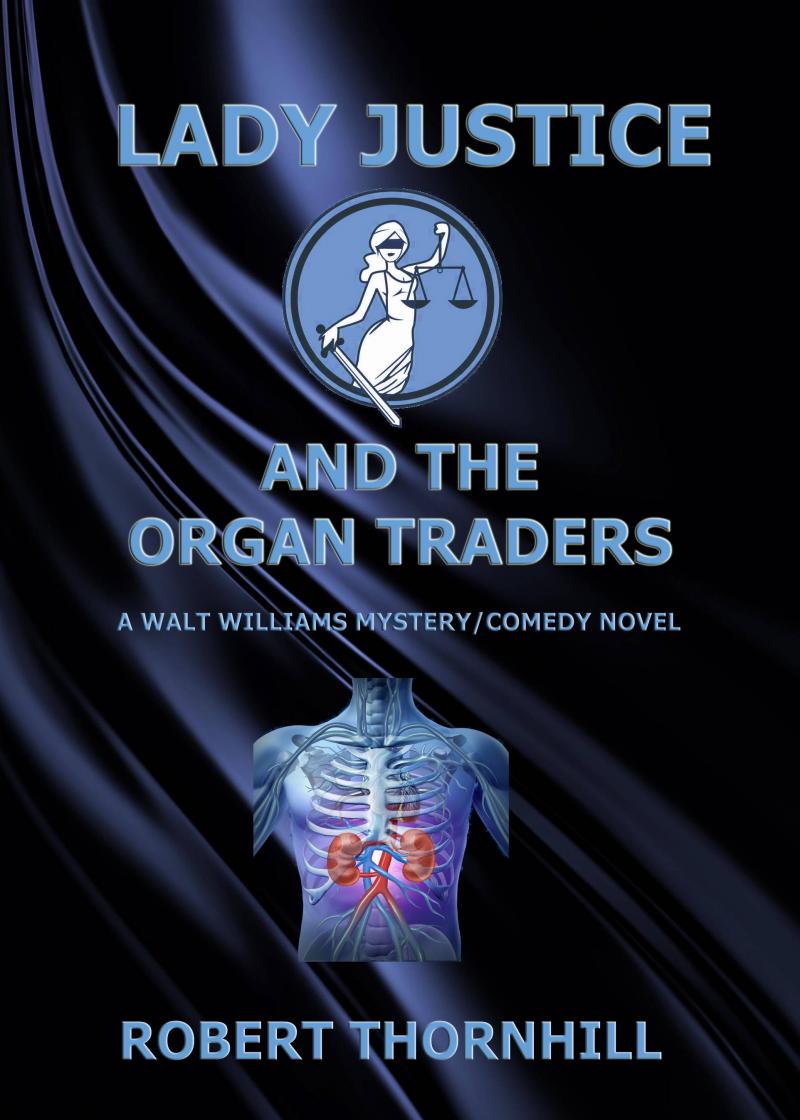 Grampy's review        
                      Reviewed by Lee Ashford for Readers' Favorite.
            "Lady Justice and the Organ Traders" by Robert Thornhill is not about musical instruments. An organized and sophisticated illegal kidney transplant operation has been active in Kansas City for an unknown period of time.
 
            It came to the attention of our old friend, Walt Williams, when one of his tenants was found dead inside a burned out car. Due to a fortuitously quick response time, the Fire Department was able to extinguish the fire before the body was completely burned up. The Coroner determined that the victim was missing a recently-removed kidney.

            Shortly thereafter a body disappeared from the morgue, leading the FBI to get involved in the investigation. Walt and his partner, Ox, are thrust into the forefront of a plan to break up the ring of organ traders, in another exciting, action-packed adventure of the "Lady Justice" series.

           "Lady Justice and the Organ Traders" is the latest in a long line of superbly written comedic mysteries. Mr. Thornhill circumspectly addresses the subject of buying and selling body parts, presenting both sides of a practice considered immoral by many. As with so many other topics, the distinction between right and wrong is blurred.

           Ride along with Walt Williams as he witnesses firsthand the good, the bad, and the ugly of organ trading. This story will bring a tear to your eye. "Lady Justice and the Organ Traders" is a worthy addition to the "Lady Justice" series. I urge all to read this book, but any book in the series will get you hooked on the escapades of Walt Williams and the City Retiree Action Patrol. What are you waiting for?
**********************************************************************************************
 Lady Justice and the Organ Traders (Lady Justice, #16)
     What would you do if you needed a kidney and the waiting list will be years before you get the life saving kidney you need? If you had the money would you do what ever it takes to buy one? What would you do if you are in desperate need of money? Would you be willing to sell one of your organs, even if it is not legal?
     Lady Justice and the Organ Traders hits the mark spot on with a controversial subject. It really left me wondering what would I do in either situation. Once again Robert Thornhill pens another 5 star read!
*I was lucky to get this book as a gift.
***********************************************************************************************
     Why do we choose to read a book?  Do we want thrills?  Laughter?  Suspense? Maybe we want to learn something new. Sometimes, we may want think about ethical choices facing today's society.  All of the above can be found as part of author Robert Thornhill's newest novel, Lady Justice and the Organ Traders.  
     Sixteenth in the Walt Williams mystery/comedy series, we are reintroduced to the full cast of beloved characters: retired real-estate agent, turned senior citizen cop, Walt; his soul mate and wife of 4 years, Maggie; his partner, Kansas City policeman, Ox; the residents of the two apartments which Walt owns, loving nicknamed "the over-the-hill gang", Willie, and Louie the Lip.  We are also introduced in this tale to Maggie's long-missing brother, Kevin McBride.
     Tying all the characters together is the theme of black-market organ trade (specifically kidney) and its moral implications in this changing world.   Thornhill cites impressive statistics about the disparity between the number of kidneys needed and those that are available.  He questions whether compensation to organ donors should be legalized, thus taking the profit and dangers associated with this trade out of the hands of the black market as we did with alcohol, and are currently beginning to do with marijuana.  Currently, we follow the rest of the world (except for Iran) and see this as a voluntary donation process.    
     There are moral implications and compelling arguments on both sides.  An interesting discussion between Pastor Bob and Walt gives the reader something to consider after the book itself has been read. Walt's love for the law and faith in Lady Justice is tested when he learns Maggie's brother has Stage 3 renal failure, soon to advance to Stage 4.  At the present, the law makes criminals out of those who sell an organ, those who buy it, and those who perform and assist in the illegal operations.  Yet, if it were your loved one who was waiting and nearing the end of life, which way would you choose?  Can Walt resolve this in his own mind? 
     As usual, Thornhill is able to carefully balance a serious subject with moments of levity to make his book engaging and entertaining.  His brother-in-law's ability to get them out of jams are referenced by Thornhill to the actions of MacGyver and Dirty Harry.  The character of Jerry the Joker gets to tell several jokes as the gang goes undercover as Salvation Army bell ringers to catch some Christmas bad guys. 
    For those living in the Kansas City area, familiar mobsters from days past are woven into the story.  He gives us thrills, laughter, suspense, and something new to learn about and philosophize over. Read and enjoy, this is worth it's five star rating!
***********************************************************************************************
"Lady Justice and the Organ Traders" is the latest in the Lady Justice series. I got this as a free download and as with all of Robert Thornhill books, I really enjoyed it.  As usual Walt and his motley crew of family and friends are at it again, and whenever they get together usually mayhem ensues. This time Walt is faced with the subject of buying and selling body parts, presenting both sides of a practice considered immoral by many.  The author still manages to inject his trademark humor into this serious subject matter.  I had a hard time putting the book down.  I can't wait to see what will happen next in the series.
*************************************************************************************************
Another awesome book by Robert Thornhill. This is #16 in the Lady Justice series. I have loved all of them and they keep getting better and better. I had a hard time putting the book down because I had to find out what would happen next. This book was about the black market kidney sale to people in need at high fees. This is a fast action mystery with tons of twists and turns. Walt and the Gang never fail to amaze me and what they will do to get the job done. There are a few laughs in the book but it will also make you stop and think of what would you do if put in that situation. I have a good friend who went on dialysis last spring and a couple of weeks ago she decided she couldn't do it any more. She said this was no way to live always being tired and sick. None of us can understand why she is just giving up but we are also not in her shoes and who is to say we wouldn't do the same thing. We also get to meet Maggie's brother Ken in this book and his friend Bugsy. They have their own adventure. Read the book today and you will not be sorry and while you are at it why don't you start from the first book if you haven't already and work your way thru to this one. Looking forward to the next adventure with Walt and the Gang.
***************************************************************************************************
Another great book in the Lady Justice series. I can't help but wonder what topic Bob T. will tackle next. Keep up the good work and I will gladly continue reading your books.
***************************************************************************************************
I received this book free from First Reads giveaway at Goodreads.com, and I enjoyed it very much. It was well written, leaving you wanting to read page after page to see what was going to happen next. This was my first book by the author Robert Thornhill and I can hardly wait to read some more of the books in the "Lady Justice" series.
************************************************************************************************