Book #21 Reader Reviews
Lady Justice and the Conspiracy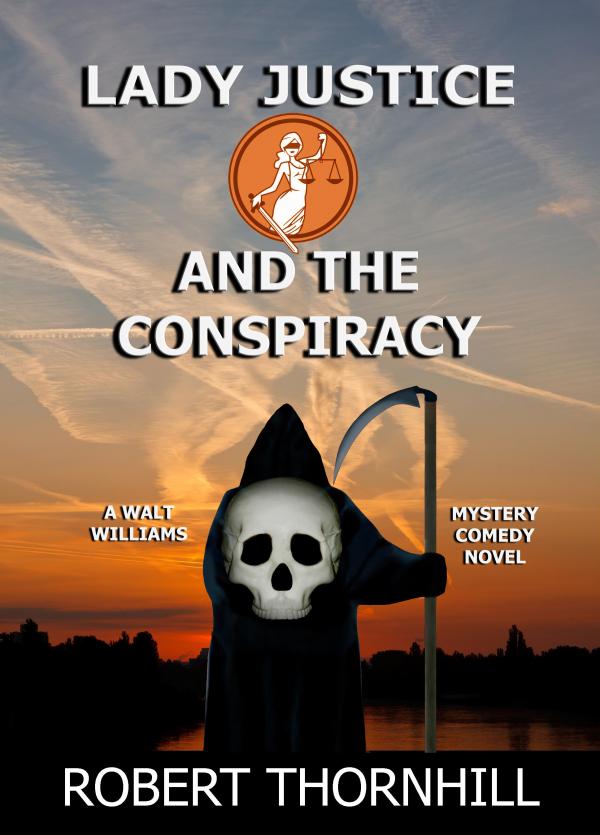 Reviewed by Lee Ashford for Readers' Favorite.

"Lady Justice and the Conspiracy" by Robert Thornhill is perhaps his best composition to date in the highly acclaimed "Lady Justice" series of light, humorous mystery stories. However, "The Conspiracy" is neither light nor humorous. To be perfectly frank, "Lady Justice and the Conspiracy" scared the stuffing out of me.

As always, Walt Williams, although he is no longer with the Kansas City Police Department, finds himself in the thick of the action. Now the owner of his own private investigation firm, Walt faces multiple nameless foes, each seemingly intent on ruining his day.

In tracking down a presumably far-fetched conspiracy theory, nearly everyone with whom he comes into contact winds up dead or missing in action, condition unknown. When Walt's nearest and dearest is endangered, he ponders whether it may be time to take a long vacation.

"Lady Justice and the Conspiracy", like all the stories in this series, takes on a contemporary issue of global significance. This time attention is focused on the escalating incidence of a variety of health issues in the United States and abroad.

In particular, how that documented increase in certain diseases and medical conditions may correlate with an increase in the chemical pollution of our air, water, soil and food. Even more particularly, how might a decades-long increase in the incidence of so-called 'contrails' in our atmosphere correlate with all of the above.

Could they signify a government conspiracy to control the weather? A defensive maneuver to protect the world from the potential impacts of a massive solar electromagnetic pulse (EMP)? Or have the tin-hats simply conjured a new boogeyman to fear?

Thornhill does not deign to answer those questions. As always, he has done a superb job of portraying all sides of the issue, leaving the reader to judge for himself.

I am compelled to give "Lady Justice and the Conspiracy" my sincerest recommendation. EVERYONE must read this book – no exceptions.
******************************************************************************************

Sophocles once said, "To the man who is afraid, everything rustles."


After Edward Snowden burst our complacent bubble that our government would never spy on us, just the "bad guys", Americans have become suspicious of all activities. One recurring conspiracy involves the use of military planes to control weather, genetically modify our food supply, inoculate the citizenry without their knowledge and/or cause metabolic changes in the DNA structures by the use of chemicals, geoengineering for the greater good. Robert Thornhill plunges his alter-ego Walt Williams into the middle of the fray and gives the reader references at the end of his tale so that they can decide for themselves what fact is and what fiction is in this saga of possible governmental conspiracy. Are we becoming paranoid without justification; afraid of all that rustles? Or should we be looking over our shoulders in order to keep ourselves safe? Is it too late to save ourselves? Do we need saving? As Walt and his cronies navigate this scenario, we are led to questions that need answers. No neat and tidy wrap-up for this story. Well written and researched, this mystery comedy novel has a lot to ponder over when the reader finishes. Good job, sir!
*********************************************************************************************
Format: Kindle Edition
I have followed Robert Thornhill's novels since the beginning. This is by far the best one yet. He has addressed many timely and relevant issues over the course of his 20+ books, but this subject is one of the most intriguing. I love the way his beloved characters are woven into the stories and have come to look forward to their parts in the intrigue. This subject in particular and the way it's presented is reminiscent of Frank Peretti's books having to do with what goes on around us, can't be proved and yet affects us. The premise is:
For we wrestle not against flesh and blood, but against principalities, against powers, against the rulers of the darkness of this world, against spiritual wickedness in high places. We live in a time when those concepts have become evident if we are aware. I like the way this book ended....it was the only way it really could. You will have to read it for yourselves to find out.
**********************************************************************************************
When I heard author Robert Thornhill was releasing another Walt Williams mystery novel, "Lady Justice and the Conspiracy Theory", I knew it was next on my reading list. The "Lady Justice" series is one I have enjoyed following. The Walt Williams mysteries keep you turning the page. The books are quick reads and the characters grow on you in each book. Although, each story is independent on its own. If older people can find a way to make life this interesting without trying, then Walt, Maggie and Ox are the ones to bring to your next party.
This story takes us to the sky. Have you ever looked up and seen a plane go by and wondered what the white trails were? Some people call them chemtrails and believe the chemicals are poison being released into the air falling down on us. Some people say it's simply water condensation produced by jets that has turned to ice crystals. I think anyone would want to believe the second explanation over the first. Looking back, everyone at one time or another over the past decade has heard words and references to global warming, chemtrails and geoengineering, even the HAARP installation or have been asked is it really possible to control the weather? This story has one common factor, mostly all involved wanted to tell the world about a government covert operation that is taking place in the sky.
Jack Carson, a journalist is trying to write a story of his own using the first explanation, a theory that its poison being released on top of us. Now for the proof, the first person, Dale Fox, a member in the Air Force known as "Falcon" is on his way to meet Jack with evidence, but suddenly dies in a car crash. The second person, Frank Katz a Professor, is completing an article for publication on the subject dies rather suddenly from a heart attack. A third person, Louise Shipley vanished just prior to a scheduled meeting and Jack Carson is now missing too. So, is there a conspiracy theory going on or can all of this be written off as coincidences?
Of course, there are a couple of other things going on in the story, such as, celebrating the 4th of July holiday and a beautiful poem. The way Walt Williams decides to get the story told to the masses, a neat twist. Thanks again for another great read!
******************************************************************************************
Another "GREAT" book by Robert Thornhill! Walt and the gang never seize to amaze me! This time Walt gets involved with a conspiracy with the government that they are using military planes to spray chemicals in the air that affects what weather we have. Makes you wonder if this can really be happening. So are the white lines in the sky Contrails or Chemtrails from the planes? People are dying trying to expose this to the public. Can Walt find an answer without getting himself killed or the people he loves killed? I love how Walt contacted Mr. Thornhill like they were best buddies.
I had to laugh when they went to that new Italian place for dinner. When they served the bread my hubby did the same thing. My hubby and I seem to have a lot in common with Walt and Maggie even their TV shows they watch. I loved the great artwork on the cover too! Very eye catching. Looking forward to Walt and the Gang's next adventure.
*******************************************************************************************
Robert Thornhill takes our favorite senior snoop, Walt, into much more dangerous territory with this novel involving chem trails, HAARP, government and corporate conspiracies, cover-ups, and mobsters. He maintains his humor, albeit a little more low key in this novel, as he tries to unravel a series of seemingly unrelated murders that keep disturbing his peace. The author maintains his objective perspective as he tries to find real facts to confirm or deny the stories he's being told, but facts are hard to come by, and interpretations abound. Will Walt make it through this maze of mayhem this time and will his beloved Maggie ever get to share another glass of Arbor Mist with him? Gotta read it to find out. Loved it, as always. [Review by Sandy Penny, Founder of sweetmysterybooks.com.]
********************************************************************************************
This was a fun and engaging read. I actually sat up an entire night reading this book. I was hooked from a few pages in to the very end. I really loved that I didnt have to read a whole series to be able to jump in and read. I am determined to read more of Mr. Thornhill's books. I truly devoured and enjoyed this read from start to finsh.
*******************************************************************************************
What can I say, I really enjoy these books!
Walt and company do it again, disappearing bees and bats with white nose syndrome, Jets leaving those white fluffy trails behind them as they fly thru the sky. Many more questions and answers abound in this installment from Mr Thornhill.
********************************************************************************************
Robert Thornhill has no fear when it comes to tackling enormous issues. He once again took on a very delicate and controversial subject, tackled it from all sides, exposed the inner workings of a conspiracy, and escaped cleanly out the other side.
    If this book doesn't get you thinking about what is going on in our world, then you need to take off the blinders and look up.
    In Lady Justice and the Conspiracy, he takes on the biggest topic in all his books so far, yet still manages to present the facts, stay objective, and all the while weaving a thrilling and intriguing fictional story. Eric & Aimee James
********************************************************************************************
As usual Robert Thornhill has gotten me to ponder yet another possible danger.
I like how Walt called Robert Thornhill for help getting information out to as many people as possible.
Contrails or chemtrails? I certainly do not dismiss the idea of a conspiracy or the danger to our world and our health. The author has links to several sources that are worth a deeper look.
********************************************************************************************
Format: Kindle Edition
Lady Justice and the Conspiracy by Robert Thornhill

Lady Justice and the Conspiracy may be the most controversial yet. Walt inadvertently gets involved in what appears to be a government conspiracy regarding weather control. With four people dead, Walt suspects poisoning from the chemicals involved. With impressive photos and in depth research this (Story) is frightening and real. (It) Makes me wonder what is happening in our country and world that we don't know about. A true five star read.
********************************************************************************************