Book #3 Reader Reviews
LADY JUSTICE GETS LEI'D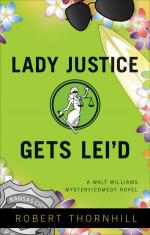 Yet another great mystery/ comedy book from author Robert Thornhill. 
Robert Thornhill has rapidly become one of my favorite authors!
In this book, we meet Walt's estranged Father, an 86 year old lady's man.  He is quite a character and he ends up moving into Walt's building and becoming one of the gang.
Walt and the gang experience so many adventures in this book!  Most of the story takes place in Hawaii but before they go to Hawaii, they go up against a group of Kansas City gangbangers.
Maggie and Walt go to Hawaii in order to get married where Elvis' character got married in that scene in the Elvis movie "Blue Hawaii."  Willie and Mary go along as well as best man and maid of honor.
There is a stretch of time where it doesn't seem like the two will actually be able to get married.... especially when Walt is called back to Kansas City and charged with murder!  There is some speculation as to who the skeleton is that is found lodged in the wall of his apartment building.... could it be Jimmy Hoffa?
As a side note, I found this reference particularly timely since just a week or so ago; the authorities thought they found Hoffa's body in Detroit.
The descriptions of the beauty of Hawaii really make me want to visit...soon!
In Hawaii, Walt and the gang continually come up against a group of Hawaiian political zealots who want Hawaii to secede from the United States.  At one point Walt and Maggie are kidnapped, drugged, and dumped in a cave on the side of a very steep mountain/ volcano. Those are quite a harrowing few chapters!
Oh, a really neat little feature of this book was a bit of the spiritual.  While still in Kansas City, Walt receives a small lizard carved from black obsidian from an Hawaiian seer.  Throughout the course of the story, Walt receives direction from lizards when he find himself and his friends in terrifying and seemingly hopeless situations....
As with the first two books in the Lady Justice series, there is a lot of wit and humor to balance out those chapters that are so anguish filled.
_____________________________________________________________________________________________
This is the third book in the Lady Justice series. Each one is better than the last, which is saying a lot because the first one was fantastic. Mr. Thornhill has a wonderful sense of humor which he sprinkles liberally throughout his stories. If you have a grandfather, a dad in his retirement years, or you yourself are of the AARP generation you will not be able to hold back your laughter as you read your way through the Lady Justice series. Can't wait for the next installment!
______________________________________________________________
This 3rd Lady Justice book is as good as the previous 2. There was more mystery/suspense in this story but the comedy was there as well. Walt & Maggie go to Hawaii to honeymoon and take Willie & Mary with them. What an adventure they all had. The Hawaiian history was interesting. I had never thought about how Hawaii became a state and whether everyone was happy about that. The landscape descriptions sounded so beautiful that I hope to see Hawaii in person one day. We also got to meet Walts dad. LOL Another great addition to this series!
______________________________________________________________________________________________
Lady Justice Gets Lei'd (Lady Justice #3) Robert Thornhill
In this third installment of the Lady Justice series, Walt and Maggie finally "tie the knot". They head off to Hawaii and get married, and their honeymoon is one like none before.

Walt must solve a murder on the Islands, although skeptical when told that he has a purpose, and reason to be there, he sets out to solve this crime. With Maggie at his side they set out to solve this mystery, where lives are in danger and Hawaiian prophecies may just come true. How is Maggie connected to this? Is there truth to the ancient (Hawaiian) beliefs and legends? Walt, Maggie and gang are about to find out in this exciting adventure.

Fast paced, funny comedy/mystery, I have to say they (Lady Justice) keep getting better! Robert's knowledge of Hawaiian history and legends, kept me up late at night. I look forward to more great reads by Robert Thornhill.
___________________________________________________
Walt and Maggie McBride are finally going to tie the knot. But getting to the big day is an adventure in itself . Can they share a place together after all at there age they are set in their ways. Walt isn,t so sure , until another mystery comes there way. A Hawaiian historian tells Walt and Maggie that they will some day be called to Hawaii to serve a purpose.. But when the historian is murdered as well as his brother they aren,t sure what to think.Walt can not help but wonder what his connection is to this case. He and Maggie feel the pull to Hawaii and decide to get married there just like in Elvis;s movie Blue Hawaii.Mary and Willie go along as witnesses for the wedding. But this won,t be a quiet little vacation from stolen ancient artifacts, political zealots, and a tiny lizard. drag the honeymooners and their friends from there posh hotel into more sticky situations. I truly enjoyed this book and its descriptions of Hawaii and the beautiful islands made me feel like i was their sharing in the adventure.look for ward to reading the other books in the series. If your looking for a good entertaining read with some laughter thrown in i recommend the Lady Justice series.
______________________________________________________________________________________________
Wow! The books in this series just keep getting better and better! In this third installment of the Lady Justice series, we are invited along to Hawaii for Walt & Maggie's wedding and honeymoon. But, if you have read any of the other books, you know it's not as simple as that. There's murder, kidnapping, angry gods, daring escapes, and all kinds of mayhem along the way. And of course, let's not forget the comedy aspect of the story! Robert Thornhill will have you rolling on the floor laughin...more
Wow! The books in this series just keep getting better and better! In this third installment of the Lady Justice series, we are invited along to Hawaii for Walt & Maggie's wedding and honeymoon. But, if you have read any of the other books, you know it's not as simple as that. There's murder, kidnapping, angry gods, daring escapes, and all kinds of mayhem along the way. And of course, let's not forget the comedy aspect of the story! Robert Thornhill will have you rolling on the floor laughing all the way through, when you're not gripping your seat in suspense. Another 5-star book from this author. I highly, highly recommend this book! I hope Walt and Maggie and their friends have many more adventures to come.... :
_______________________________________________________________________________________________
____________________________________________________________
The third book in the Walt Williams Mystery Comedy Series follows a twisting trail of murder from the Kansas City base of Walt to the beautiful Hawaiian Islands. Maggie and Walt are officially engaged, but each has doubts about starting marital bliss for the first time at their age (mid-60s). It's not easy to give up the independence of one's own style of living in order to accommodate anothers. As they secretly question themselves, fate intervenes. After a near death experience in KC, Walt and Maggie decide they do want to be together forever, however long that may be, and they head to Hawaii with Willie and Mary along as their attendants, for a dream wedding in an area made famous by Elvis in the movie Blue Hawaii. Of course, nothing moves smoothly. Two Hawaiians murdered in Kansas City seem to have connections to the political zealots who want to return the island to its native inhabitants and secede from the USA. The remodeling of Walt's apartment uncovers a skeleton and he has to fly home just before his wedding date. Walt's father reappears in his life after being kicked out of his retirement community for lewd and lascivious behavior and wastes no time taking up with one of Walt's senior lady tenants. All provide excitement and a rich background for Walt's style of humor. And the conclusion? Well, let's just say that Walt channeled his best Indiana Jones to help Maggie and him escape from a cave in the cliffs over the ocean and to rescue Willie from burning to death in the sugar cane fields. A fun read!
______________________________________________________
I've decided to write a review on all three Lady Justice books at the same time.

These books were such a delight to read! They were quite humorous and entertaining throughout. I did like the first two books, Lady Justice Takes a C.R.A.P. and Lady Justice and the Lost Tapes, a little bit more than the third book, Lady Justice Gets Lei'd.

These stories are about a retired realtor Walt Williams, who, after witnessing an elderly woman's purse get stolen, decides to join the police force as a "citizen patrol" officer. He is partnered up with a big officer named Ox (nickname) and they fight crime together. He lives in an apartment building that he owns and also has another building, a hotel for men down on their luck. He has a wonderful girlfriend who is also a realtor and he is friends with many elderly people who live in his buildings.

I really liked all three books. I would definitely recommend these to anyone who enjoys mystery, humor and a little romance. I'm looking forward to more Walt Williams books!
_______________________________________________________
Each time Robert Thornhill writes a novel in this series, it just gets better. This time the characters Walt, Maggie, Mary and Willie are off to Hawaii, and a huge caper ensues. This one takes up the whole novel, which I LOVE. Tons of history about Hawaii, it's history, the climate, the economy, the Islands, and the people are included. And since the writer lived there, he would know all about it. I love that part the best!
It is still a short, easy read, but you will love it the most of all of them. I did!
_________________________________________________________________
Author provided me with this free copy in exchange for a review.

There is not enough good things that can be said about Robert Thornhill and his Lady Justice series. In honor of the last book (Lady Justice and the Lost Tapes) I'll say "A little less conversation. A little more action, if you please." In case you don't know that's Elvis. Well, Thornhill delivers.

While there's still humor to be had (the plane ride to Hawaii comes to mind), there is quite a bit of suspenseful action in LJ #3. Add to that the beauty and mysticism that is Hawaii and you've got yourself another winning Walt Williams adventure.

Honestly, these books need to be read! There are great! They're great for anyone who likes to smile. I hope that's everyone. ;)

_____________________________________________________________
These books are fast reading and a really humorous mystery series. In this third book of the series Walt and his sweetie are going to get married in Hawaii. Sound simple? No way. Walt, Maggie, Mary and Willie embark on an adventure you just won't believe. Throw in ancient artifacts,political zealots and a tiny lizard who appears when he's needed and you have a recipe for humor, Lady Justice style. You will laugh till your sides hurt.
___________________________________________________________________________________________
_______________________________________________________________
The third book of the Robert Thornhill's Lady Justice series, Lady Justice Gets Lei'd rejoins readers with Walt and the crew as he continues in his mission for justice. This lovable senior citizen became a cop in his golden years simply because he wanted to, and to everyone's surprise, he is incredibly good at it. All the beloved characters are back and readers are swept up into all new adventures.
The great thing about this series is the characters. They are all very easy to relate to and there is a distinct difference in all of the characters, something that seems to be lacking in many people's books lately. It's easy to be sucked into what the characters are feeling and thinking. It's not hard to understand Walt's fear of building a life with Maggie, or the way that things seem to be setting him up to have the most amazing adventures. From taking on a notorious gang to heading to Hawaii, Walt proves over and over again that it's not important how old you are, but what you're willing and wanting to do that allows you to follow your dreams.
This is a fantastic series that I highly recommend to anyone. It's guaranteed to make you laugh, and is easy to follow and a quick read without insulting your intelligence. The adventures are believable, and you will be left gasping and unable to put the book down until you know whether Walt gets out of the trouble he keeps getting into! Andrea McClain
_______________________________________________________________
Lady Justice Gets Lei'd is a great third installment in the Lady Justice Series. It starts off trouble free with Walt and Maggie avoiding then planning their wedding. But if you are familiar with Walt and his gang of friends, you know that things are never peaceful for very long. After Walt moves his long lost Dad into his building he has to deal with his over active romantic life and starts to get to know him again.
As with all the books in the Lady Justice Series trouble has a way of finding Walt and it does again in this book, this time dragging him into the mysterious theft of ancient Hawaiian artifacts. Once again Walt, Maggie, Mary and Willie are thrust into an adventure on the Hawaiian Islands.
This is a great series and I thoroughly enjoy reading each installment. The author has done an excellent job in creating characters that are real and the reader can relate to. This is an excellent series and anyone who picks up these books will not be sorry, they are full of action, suspense and comedy. I love these books and highly recommend them to anyone looking for a captivating and enjoyable read. Sissy Wade
__________________________________________________________________
In this, the third of the Lady Justice series, Lady Justice Gets Lei'd, Walt and Maggie are getting married, each for the first time. Pre-wedding jitters abound. Where to tie the knot? When to do it? Large or small wedding? Best man and maid of honor? All of these questions must be answered. Intervention comes in the form of Uncle Ray, a Hawaiian historian that they meet at an exhibit of Hawaiian artifacts who has a very strange prediction for Walt and Maggie.
""My homeland calls to you. It is not yours to understand now, but the day will come. You have been chosen."" (Uncle Ray)
When Uncle Ray and his nephew are killed, Walt and Maggie find themselves on the way to Hawaii with their friends Mary and Willie. Plans for the wedding begin to fall into place with the help of several relatives of Ray and his nephew. But not before a mystery that involves the prediction expressed by Uncle Ray becomes a part of their trip. Travel with them as they delve into superstitions and beliefs of the native Hawaiians and they get involved with adventure on each tropical island one at a time.
Robert Thornhill has written another hilarious and exciting story in his Lady Justice series. You will laugh all the way through it as it follows up the previous two in the series. You will laugh and hold your breath as Walt and Maggie and their friends tour the Hawaiian Islands in their own inimitable fashion.
Bob and his wife, Peg, lived in Maui, Hawaii for five years, so he has continued to do what all writers are told to do — write about what you know. Lady Justice Gets Lei'd is set in the beautiful Hawaiian Islands. He now lives with his wife, Peg in Independence, Missouri.
Katherine Boyer
E-mail address: