Book #8 Reader reviews
Lady Justice and the Watchers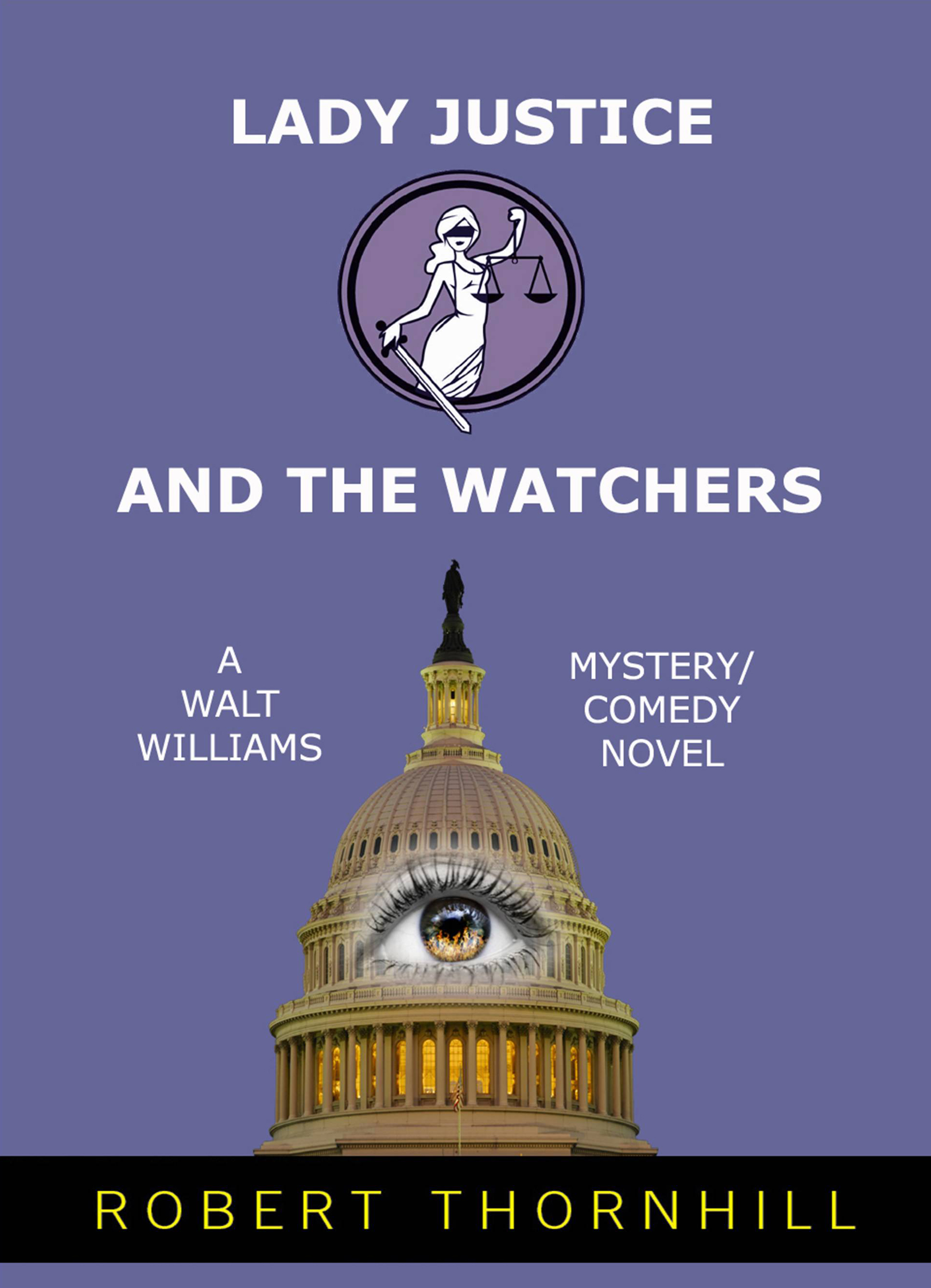 Robert Thornhill continues to crank out incredibly enjoyable and relevant stories with the Lady Justice series.
            In this edition of the mischievous and hilarious endeavors of Walt and the gang, they find themselves tackling the important dichotomous reality we all find ourselves in with the advancement of technology, 'health care' (sick care), and governmental involvement in our lives.
            Building on the now growing awareness of the Orwellian nature of our society, Walt deals with the difficult issues of GPS tracking, global communication monitoring, Patriot Act and other major governmental changes to 'protect' our safety since 9/11, as well as the on going issues of our imploding health and healthcare system and our increasingly pharmaceutical lives.
            These continue to be the books I want to read to not only relax and laugh, but also to continue to think deeply about whether our exponentially increasing scientific and technological advancements are doing more harm than good. Are we truly better off now that we are living such synthetic lives, able to find and communicate with anyone, anywhere, and at anytime? Or are we fast becoming a 'big brother' society and headed towards a world of total control, more toxic and fake foods, dangerous and invasive medications, surgeries, and gene therapy, and ever worsening overall health and happiness??
            We continue to be thrilled to be associated both personally and professionally with the Thornhills and their line of books. We find them to be a powerful and fun way to educate everyone about the reality of the world today, and bring awareness to the dangers of the advancements we take for granted as a necessary part of a modern day, convenient lifestyle.
            As we are always focused on our mission at New Medicine Foundation of returning the world to a very scientific but much more natural way of health and living, and a more sustainable future, the message of the Lady Justice series delivered by the amusing situations and antics of Walt and the gang fit right in line with our purpose.
            I highly recommend the Lady Justice series, and especially 'the Watchers', to anyone looking for a good laugh, an enjoyable, relaxing, and exciting story, and a way to think about some very current issues at work in our modern society and these transformative and somewhat difficult times.
            Keep up the great work Bob as we all need the laughter, suspense, and underling truthful and even provocative information that you are delivering with the Lady Justice series.
Dr. Edward W. Pearson, MD, ABIHM 
New Medicine Foundation

___________________________________________________________________________________________
Lady Justice and the Watchers is an eye opener to current events as well as an enjoyable read. One of Thornhill's best.
October 7, 2013
Robert Thornhill's "Lady Justice" series brings fun, mystery and a "wake up" call to readers as to the current state of affairs in the US. He is making a statement we all need to heed as well as being laugh out loud funny and entertaining. Bravo to Thornhill for his unique, insightful and entertaining work. Looking forward to more from this author.
_________________________________________________________________________________________
good read

August 13, 2013

This author is psychic! His story and today's broadcast news had much in common. The author is an excellent writer. His mechanics of good writing are fine. The story of a planned terrorist attack against the USA at a populated sport event is told clearly without verbiage making it a good read for everyone, from the very young to the very old. I was reminded of a Tom Clancy novel about a dirty bomb detonated at a sport event. I like this author's brevity and levity better than Mr. Clancy's lengthy style.

Presently, in America, we find ourselves in a fine mess. I appreciate the author's statement defining our problems and his offer of hope for both the present and the future. I am so tempted to let 'er rip and make my own statement about the wrong and the right of everything happening in my country, but I am afraid to do so. What if it ended up in the wrong hands? That is my conundrum.

Thank you, Mr. Thornhill, for a good read that needed to be written.
___________________________________________________________________________________________
I ordered my copy today..Can't wait for it to come in the mail so I can read it!
I am loving this book so far. I agree with the flu vaccination. The only one I have ever had was the swine flu years ago when we were first married and my husband said we needed to get it and I remember standing in line to get pain inflicted on me. Ever since my dad got the flu vaccine and got sicker than if he actually had the flu. He said he would never get another one and would take his chances with the flu. I can't see getting a shot that is going to make you sicker than if you actually had the flu. Just doesn't make sense to me. Looking forward to see what happens next in Walt's latest undercover assignment!
I loved this book. Walt and his crew are totally amazing. This book really makes you stop and think about all the stuff that goes on in the world.
Looking forward to book #9 coming out. Can't wait to see what trouble Walt will get himself into in that book.
Thank you Mr. Thornhill for such amazing books that are funny and full of lots of twists and turns
____________________________________________________________________________________________
Lady Justice and the Watchers

October 5, 2013

Lady Justice and the watchers is the eighth book in the series. Walt Williams is back. Walt is faced with a pair of men who are set on bringing truth to this country; the truth about the food we eat, pharmaceutical companies , modern technology and what we buy. When a suspected terrorist cell ij Kansas City gets the attencion of Homeland security Walt is recruitied to infiltrate the group. Robert really gets into the minds of these people with vivid detail and emotion.It was somewhat frightening what i discoverd when i read this book. made me look closer at what i buy.

___________________________________________________________________________________________

 
Conundrum:  A logical postulation that evades resolution, an intricate and difficult problem.  That is the essence of Robert Thornhill's latest Mystery / Comedy Novel, Lady Justice and the Watchers, featuring retired real estate agent Walt Williams.  How can the American populace enjoy all the freedom and safety brought to us by advanced technology (OnStar in the cars, personal and home security systems); the convenience of credit /debit cards, on line banking, and hands-free communication devices; and the exhilaration of being able to communicate with friends and family on opposite sides of the world by Skype--and still maintain our privacy from those who would do us harm or seek to manipulate us: the crooks, the terrorists, our own government?  Does the average person realize the cost in personal freedom?  Do they care?  Should they care?  These are the questions posed in this thought-provoking and thoroughly disquieting story. 
The eighth novel in the Lady Justice series finds Walt being initiated into the 21st Century of technological advances that enable police to better do their jobs, such as the ability of OnStar to pinpoint stolen cars, report accidents where the driver might be too injured to report himself, to even slow down and stop a stolen car.  He learns that if you have a cell phone turned on, it (and the person carrying it) can be pinpointed and tracked.  On the flip side, the bad guys can do this, too.  In fact, by picking up random "chatter" from cell phone calls and internet messages, the government can thwart possible terror attacks.  The target in this book involves the All-Star Game in Kansas City, MO.  Will Walt and the feds be able to stop the proposed carnage at Royal Stadium?
At the same time, Walt also learns how much power the government now has in using these tools.  A group of Pakistani exchange students and their American host families are caught up in the intrigue, and though they are innocent, all their civil liberties are suspended indefinitely.  Is this the Justice that Walt believes in and fights for?
This should be a "Must Read" for every person, young and old, regardless of our political persuasion.  Told with his usual humor and fast pace, Thornhill's book challenges the reader to think deeply about where we've been and where we are going.  His best work yet!(less)
_____________________________________________________________________________________________]
Robert Thornhill knows how to pen a thought provoking tale.
Once again he comes up with a hit in Lady Justice and the Watchers.
Walt Williams is back and this time is faced with a pair of men who are set on bringing truth to this country; the truth about pharmaceutical companies, the food we eat, what we purchase, and modern technology.
A suspected terrorist cell in Kansas City gets the attention of Homeland Security and Walt is recruited to infiltrate the group.
Robert gets into the minds of these people with such emotion and vivid detail, and what he brings out in this book is so real, it is frightening.
Now, because of this new novel, I will think twice every time I swallow my medications, turn on my computer, or just go to a ball game.
If you can only read one book this year, this would be it.
Sheri Wilkinson, Goodreads
______________________________________________________________________________________________
In Lady Justice and the Watchers Robert Thornhill introduces us to some new characters as well as presents us with a lot of issues that we should all be aware of.  In this latest installment in the Lady Justice Series, Mr. Thornhill brings back all of the characters we have come to love and care about throughout the series.  As always, Walt again finds himself in danger on multiple occasions and never does get to have his cheesecake.  In this latest installment Walt comes to the realization that technology is being used for more than the public are aware of.  He is faced with the same thing that many of us are, is the technology that we have become so dependent on worth the ability for numerous agencies and companies to have access to all of our personal information.  Along with the rising discomfort that Walt has towards technology, he also must solve two kidnappings as well as stop a terrorist attack.  As usual Walt always finds himself in the center of all the action.
I enjoy reading all of Mr. Thornhill's novels, not only because they are full of characters that I have come to care about but also because Mr. Thornhill poses serious questions that we should all be aware of.  Not only are his books an enjoyable way to spend a day, they also leave you thinking about some of the same issues that are troubling Walt.  I believe that even if this is the first novel in the series that you read, you will find yourself looking for the previous installments in the series.  I eagerly wait for the next installment; I can't get enough of Walt, Mary, Maggie, Ox and all of the other characters in the Lady Justice series. 
_____________________________________________________________________________________________
What did I think of "Lady Justice and the Watchers"?  Simple...I loved it!  The main character, Walt Williams, has proven to me that you're never too old to make a difference.  That learning new ideas is an on going trait to be admired and embraced...and watching is most important of all. 
The story reminded me of the pulp fictions from the 50's at first...but, as Walt learned something new, so do the readers, thus modernizing the pulp fiction.  I have found my new fav pulp author with a modern twist which I like very much.  The humor is quirky and funny and the author's style is so much better than the 50's pulp-which I love!
___________________________________________________________________________________________
I sure am glad that there was a good deal of humor in this 8th installment of the Lady Justice series because it scared me.
There was example after example of the many ways that we have given up our privacy and how it is a great risk to our freedom. I have tried to pay attention to what is going on around me but clearly I need to be a Watcher.
I think that this is a must read book! It has occurred to me that Robert Thornhill is educating me under the guise of entertaining me.
Thanks for another great book!
__________________________________________________________________________________________
A well researched and written book

September 1, 2013

This book is an eye opener full of thrills, chills, and giggles. I learned some things I didn't know and got some ideas about the fine line between justice and interference and some ideas about how we, as American Citizens, can keep our eyes open and our influence felt - all while I was being entertained with a good read.