Book #6 Reader reviews
LADY JUSTICE AND DR. DEATH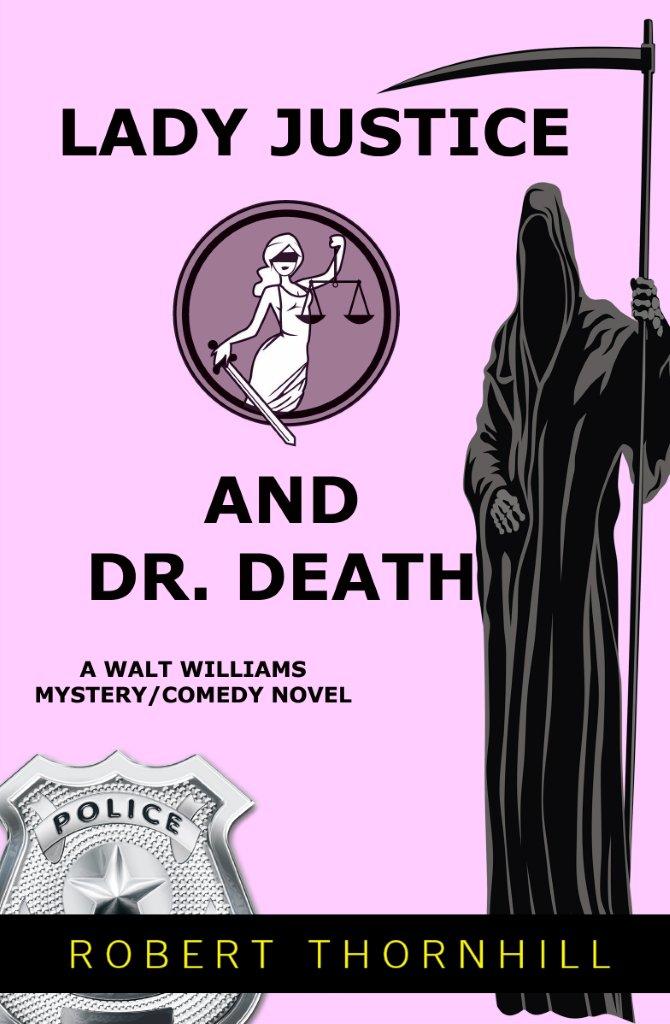 I don't know how he does it!  In this book, Robert Thornhill tackles the difficult and controversial topic of death, assisted suicide/euthanasia, yet at the same time keeps us laughing with his trademark sense of humor.  This could be a very dark subject, but with Walt Williams and his zany group of friends, there is never a dull moment.  A great read, impossible to put down!  I highly recommend it!
_______________________________________________________________________________________________
Lady Justice And Dr. Death (Robert Thornhill)

Walt Williams is back in the 6th installment of the Lady Justice series. This time Walt and his partner Ox are looking into the case of assisted suicide. When an ALS patient dies , his daughter is not sure it is of natural causes. Soon they find it was not, that someone had assisted in his death. They are on the trail of a man who they are calling Dr. Death.

This is a controversial subject and the book brings about both sides of the issue. Some people feel "Dr. Death" is a hero, putting the terminal patients out of misery and allowing them to die with dignity. Others feel he is a cold blooded murderer. Walt is faced with these moral issues as it is one of his toughest case yet.

All of the lovable characters are back, and they are faced with their own mortality. Filled with laugh out loud comedy, danger and suspense. Mr. Thornhill brings up a sensitive subject in a unique and satisfying way. Thought provoking and satisfying read, with a perfect ending. If you could only read one book this year, this would be my choice.

I eagerly anticipate the next installment of the Lady Justice series, Don't stop now Bob....I see a T.V. series out of this!!!!!
__________________________________________________________________________________
The Lady Justice series keeps getting better with each book. After reading six, with Lady Justice and Dr. death I feel that I know the characters very well and they are old friends. This episode introduces a new character who is mentioned briefly and I hope he appears in future books. No spoilers here! I will say that he is...no, I'd better not divulge a thing.
Walt again goes undercover and has close calls, proving that he has at least nine lives, also that his wife, Maggie is the most understanding and fearless wife ever. He is a true hero, but she is at least a heroine and maybe more because Maggie doesn't get the parties and accolades that Walt does.
The difficult to tackle subject of euthanasia is tackled, which I was a little leery of, but as serious as that is, it was well handled and the conclusion of that case was unexpected and satisfactory.
Also covered is an FDA conspiracy and scandal. I now want to follow up on the web sites Mr. Thornhill provided in the Foreward and learn more about elderberries. To find out why, read the book. You won't be disappointed. Robert Thornhill has a fertile imagination, a good sense of humor and thankfully, knows how to write. 
____________________________________________________________________________________________
I never expected to enjoy this book but it's delightful! Having been a Geriatric therapist for many years I loved how important information was presented. It's so important to have a DNR and Living Will. This information being presented as part of a mystery is brilliance on Thornhill's part.
This is the 1st book of the series that I've read but I certainly plan to go back and read the others. The characters come to life so quickly and are so well developed that they felt like family. Wonderful read!
___________________________________________________________________________________________
Walt Williams, retired real estate agent-turned cop, is off to a new adventure in Robert Thornhill's sixth installment of his Lady Justice mystery-comedy series, LADY JUSTICE AND DR. DEATH. This time Walt deals with the moral implications of a Jack Kevorkian-like Dr. Death who helps terminally ill patients peacefully and painlessly commit suicide. The pros and cons of euthanasia are even-handedly discussed as the case progresses and Walt goes undercover as a terminally ill old man. This book also has a sub-plot harkening back to the last story, LADY JUSTICE AND THE STING, following up on the corruption of the drug companies. Without giving away too much of the story, Walt is targeted twice for assassination, has an out-of-body / near-death experience, and eventually brings both stories to satisfying conclusions. Throughout it all, his feisty group of senior family and friends, help him to both catch the bad guys and come to his rescue, as they debate the feelings of their own mortality and how they feel about "right to die with dignity" issues. A new character is introduced: Walt's half-brother, Mark Davenport, son of Walt's father. Wonder if he'll be appearing in future episodes, too?
As usual, Thornhill writes with reliable factual knowledge and lots of guy-humor, producing a story that is fun to read. The moral dilemmas posed in his books reflect the real world the reader faces. We might like to think that justice is a black-and-white issue, but in reality, there are millions of shades of grey...some lighter, some darker. It is good for us to be able to reflect upon our own opinions without feeling we have been subjected to a lecture. Entertaining and thought-provoking...what more could one ask from a book?
______________________________________________________________________________________________
Walt williams and his crew are back this time they are looking into a series of mysterious deaths. People are found dead under circumstances that suggest a new Dr Death is practicing euthanasia in the Kansas city area.This is a light- hearted look at an explosive topic is it wrong to help someone who is terminally ill end there suffering, or is it murder to help them end there life peacefully. Against a Doctor,sa dvice.Walts aged friends also begin to explore their own mortality and decide to make living wills that state they do not want to be kept alive by machines, they do not want to suffer the pain and indiginity that comes with a prolonged illness.that they won,t recover from. The ending to this story really touched my heart .Robert Thornhill really came to the point in this book in a light hearted fun way. He touched on a hot bed topic. That today still causes controversy, who has the right to say if your terminally ill and you won,t recover pull the life support is it up to the Dr,s or your family to decide for you?Especially if you do not have a will stating you do not want to be kept on life support.
________________________________________________________________________________________________
I loved this book! Never a dull moment with Walt and his friends. Lots of different twists and turns and a fast paced read. It keeps you guessing through out the book. I can't wait for book #7 to be written to see what happens next. Thanks Robert for another amazing book!
Lady Justice and Dr. Death is the 6th in the Lady Justice series written by Robert Thornhill. It is a novel of tragic activities that mimic the actions of Dr. Kevorkian and comedic actions that mimic Walt's unique behavior. Walt goes undercover again – this time as a terminally ill patient. His cover is blown, but we don't find out for sure why until the end. That is the first teaser to get you interested in what happens and read it for yourself.

This is another book by Robert Thornhill that you can't miss. Notwithstanding all the fiction, Mr. Thornhill asks questions that we have all asked ourselves at one time or another. He does not actually answer the questions, but he does hint at how Walt would answer them. His premise leaves it open to you and your ideas and beliefs.
Robert Thornhill writes a lot about what he knows. Many of the characters in his books are based on people in his real life. He has a healthy sense of humor about all segments of life. He lives in Independence, Missouri with his wife, Peg.
_______________________________________________________________________________________________
I love it when authors use the genre of fiction to raise awareness of issues the general public should be more aware of. I've long known that we have corruption and collusion in our government, and it is nice to see it be more exposed in an accessible manner. The prologue mentions that some of the events in the story are based on reality and I even remember hearing about the elderberry debacle in the news a ways back.

While the book reads like several short stories, they are all tied together nicely and all come back to make a point at the end of the novel. Nothing about this novel feels preachy, including Pastor Bob.

Euthanasia, which is the main focus of this novel, is a touchy subject to deal with. However the author, Robert Thornhill, does it in a way presents all sides fairly evenly. I don't want to spoil the ending for you by telling you how it ended. I think that your personal views on euthanasia notwithstanding, you'll appreciate the ending.

Nothing about this short novel bored me. Thornhill moved through the plot efficiently without wasting the reader's time. Overall, this was a thoughtful novel with plenty of character and intrigue to keep the reader engaged through all 200+ pages
_________________________________________________________________________________
I really ejoyed reading this book I will have to get the whole set.
__________________________________________________________________________________________
I Couldn't Stop Reading This Book!, September 18, 2011
This review is from:

Lady Justice And Dr. Death (Volume 6) (Paperback)
Confession: I don't generally read thriller-type books but this one caught my eye and I thought I'd give it a try. I was hooked from the first page, and honestly couldn't stop reading it all weekend. The characters are well-developed, the story is well-written, and progresses quickly enough to keep you wanting more. There are some unpredictable twists in this book that will definitely keep you guessing. Now I need to go back and read the other books in this series. I am hooked!